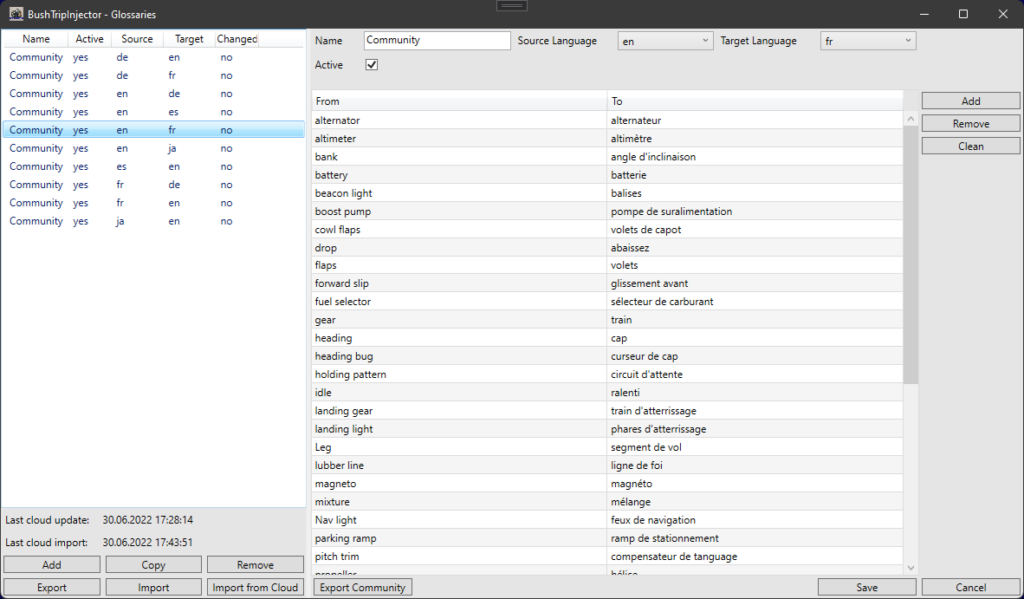 Automatic translations in the field of aviation and the special technical terms of flight simulation can lead to a completely different meaning of the sentence or paragraph in other languages.
With the glossaries within BushTripInjector there is the possibility to override certain translations.
Glossaries are currently only supported in combination with a DeepL API access. Learn more about this in Translate. Register for free at https://www.deepl.com/pro#developer/ and get 500000 chars free each month!
The glossaries are stored on your local machine in the database folder you have defined in Options.
Glossary
You can define as many glossaries as you want. You must give a glossary a name and select the source language and the target language for that glossary. You can create multiple glossaries for a combination of source and target languages, but you can activate them only once. If you activate more than one combination, the first one is used in alphabetical order.
| | |
| --- | --- |
| Name | The name of your glossary. Please use a name you can easily identify it later. |
| Source Language | The language you want to use as source. Translations from this language into the Target Language can use this glossary. |
| Target Language | The language you want to use as target. Translations toi this language ifrom the Source Language can use this glossary. |
| Active | Set it to active or not. Only active glossaries will be used for translations. |
Glossary Entries
Here you define the entries of your glossary. It is not limited to single words, so you can also use word combinations, such as "heading bug".
Import from Cloud / Sync. Community
The famous and well-known community of BushTripInjector has already created aviation-related glossaries for some language combinations. With this button you can synchronize and use them with your local database.
This community driven project is not affiliated with the BushTripInjector team. We provide the cloud storage, the implementation inside of BTI and support the Project on our Discord, but all content is created by the community.
We appreciate every helper who contributes to this project and continues its success.
Export / Import
Export or import multiple glossaries to a file for your backup or just to share in the community. Join BushTripInjector's Discord and have a look for the public channel #community glossaries.