When you select the tab World Map BTI projects your trip in that part of the world where the trip is planned. The start of your trip has a green pin and the end a red pin.
General
Options
Here you set the options for the WorldMap. You can minimize the options window by clicking the ">" icon.
Flightsim.to
Choose if you want to see flightsim.to Add-Ons (see also description below)
None: No Add-Ons are visible
All: All flightsim.to Add-Ons are visible. Use with caution, there are many
Trip/Leg/Waypoint: Distance for selecting add-ons
Distance
The distance to Trip/Leg/Waypoint to show the add-ons.
fs.to
show active only
Flag to show all or only your selected Add-Ons
Landmarks
Tick, if you want to see your defined landmarks on the WorldMap
Airports
Tick, if you want to see the largest airport in the map.
Waypoints
Tick, if you want to see the intermediate airports and waypoints of your flightplan on the map
TTS
Tick, if you want to see your defined text-to-speech on the map
Areas
Tick, if you want to see the areas, you defined in Event&Triggers Editor on the map
Maptype
Choose one of the different map types included in BTI:
ArialMode
Satellite Image of Bing Maps
ArialModeWithLabels
Satellite Image with Labels of Bing Maps
RoadMode
Bing Maps Road Mode
finland-topo
Finland Topology: maps provided by National Land Survey of Finland.
google-maps-hybrid
google-maps-roadmap
google-maps-satellite-only
google-maps-terrain
Roadmap, terrain, satellite and hybrid maps provided by Google. Working but deactivated by default, you need to activate them by yourself. Please add a proper UserAgent in respect with Google Maps Terms and Conditions.
norway-topo
Norway Topology: Maps provided by Norwegian Mapping Authority Kartverket
OpenStreetMap
Source: ©OpenStreetMap contributors, License: License: Creative Commons Attribution-ShareAlike 2.0(CC BY-SA)
OpenTopoMap
Map data: © OpenStreetMap contributors, SRTM. Map style: ©OpenTopoMap, License: Creative Commons Attribution-ShareAlike 2.0(CC BY-SA)
Stamen
Terrain and Toner map style, Map tiles by Stamen Design, under CC BY 3.0. Data by OpenStreetMap, under ODbL Watercolor map style, Map tiles by Stamen Design, under CC BY 3.0. Data by OpenStreetMap, under CC BY SA
Context Menu

| | |
| --- | --- |
| Add TTS | This adds a new text-to-speech on this waypoint. You can enter the text as you want |
| Add TTS from Wiki | This will add a new text-to-speech based on the selected wiki entries in the sub menu on this position. You are able to edit the text |
| Add Point of Interest | Here you can add a new landmark for your mission |
| Create Image | This will use the current map as the image for the entry you selected |
| Copy to clipboard | This will copy the coordinates you clicked in different formats into the clipboard. |
Discovery Flights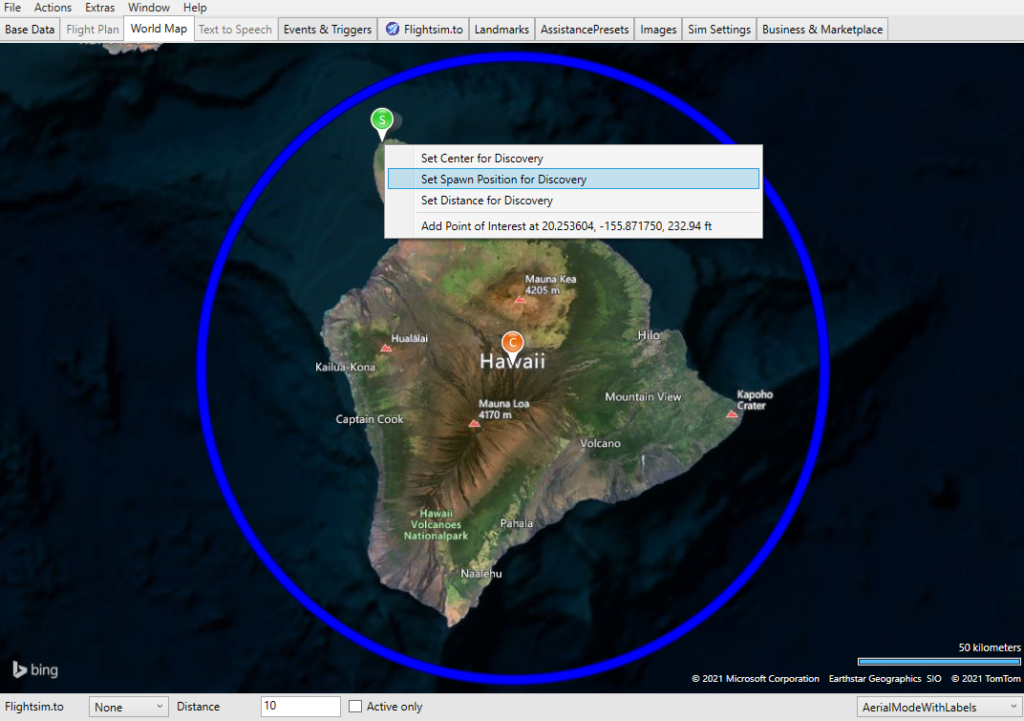 Set your general parameters for the Discovery flight from Worldmap:
Center: Set the Center of your Discovery flight. Your current center is shown as an orange pin in the map
Spawn Position: Here your discovery flight will start. BushTripInjector will calculate the starting altitude depending on the ground elevation. You can change this on BaseData later.
Distance: Change the boundaries of your discovery flight. The current distance is shown as a circle around the center.
Flightsim.to Integration
On your trip you find dots which represent add-ons published on Flightsim.to. The colour of the dots is explained in the table below.
In this way you can select which add-ons you like to use with your trip.

Right mouse click gives you a menu.
Add Text to Speech: You can add sound file connected to the add-on.
Open: Opens the respective page on Flightsim.to
Select: You select the add-on to be used.
Selection is made clear by a white dot in the middle of the coloured dot.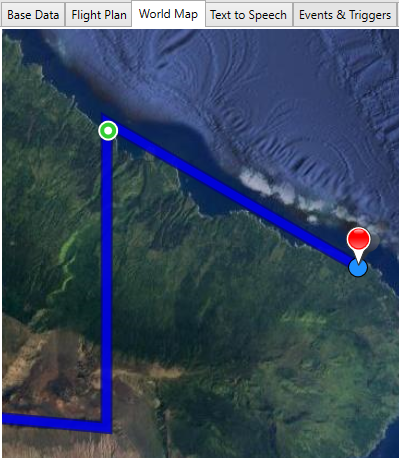 Now it looks like your preferred add-on will be handled by BTI. But that is not the case. This tab is incorporated in BTI for your convenience. In the tab World Map you have an overview of all add-ons applicable in the region of the trip. In one view you can see which add-ons you selected.
The selected add-ons are not by any means integrated by BTI in your flight plan or trip. You still have to do that yourself by downloading and unzipping to the community folder.